After months of using a french press and a manual drip coffee maker, I finally caved. Last November, finally fed up with having to manually make my coffee one cup at a time, I bought the HCM 15XB Coffee Maker from Hanabishi. This article will be my review of this model after living with it for three months.
Brief
Brand/Model: Hanabishi HCM 15XB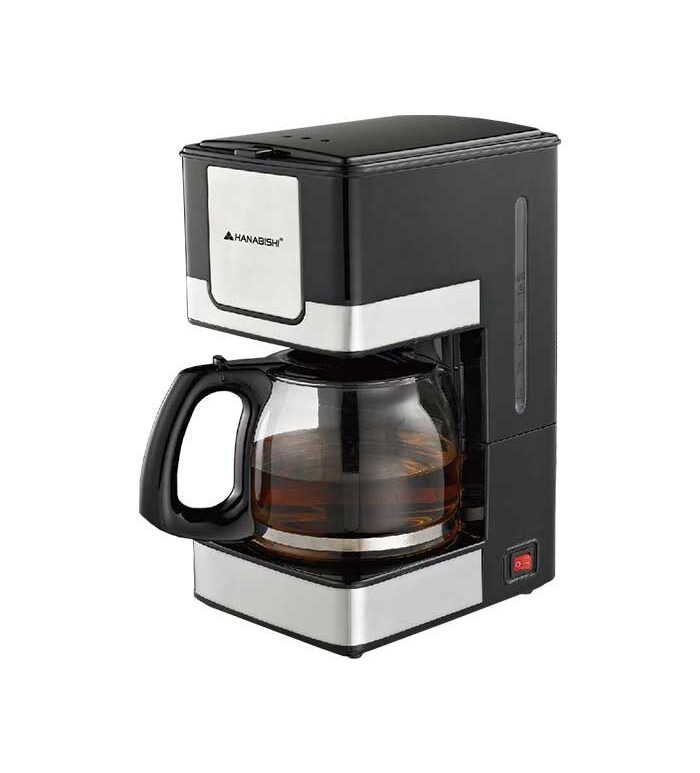 What I like
The clean and modern square design
Affordable price
What I don't like
Water reservoir is not detachable (hard to clean)
The filter does not swing out
Summary: The Hanabishi HCM 15XB coffee maker is a solid choice for solo coffee drinkers. A full batch will yield 4 small cups or two big mugs. It is straightforward to use and gets the job done, but the hard to clean water reservoir is quite a letdown though.
SRP: ₱740.00 (as seen on Lazada)
Rundown
While I was in college, my coffee "routine" of choice was a 3-in-1 coffee and a bottle of Kopiko 78 to help me get through the day. Looking back, that wasn't much of a routine, and I eventually found both of them too sweet for my taste.
Fed up with the sugary sweet instant coffee, I switched to coffee brewed in a french press.
The resulting brew was strong, full, and complex – I like the french pressed coffee well enough. However, while I enjoyed the brewing process, I found that it took too much of my time especially when I am working from home.
I tried brewing in a manual drip coffee maker, but I also found the brewing process too time consuming for my everyday coffee needs. At this point, I decided to buy an automatic drip coffee maker.
I didn't really do any research on what model I would buy, since I was only in the market for an entry-level automatic drip coffee maker, which I know are not expensive and there are not any big technological differentiation between models in that category.
So I went to an AllHome near me, and then shopped for a new coffee maker.
I filtered my choices with the following characteristics: the capacity must be enough for me (I drink at least two mugs of coffee a day), the price must be sensible, and the design must not be gaudy. With that, I chose the Hanabishi HCM 15XB. I've been living with it now for about three months, and this is what I think of it:
Features
4-6 cup water capacity
Modern ergonomic design
Non-stick heating plate
Illuminated ON/OFF switch
Cone style permanent filter
Water level indicator on tank
Heat resistant glass carafe
Hinged tank lid
Stylish reservoir for coffee
What's in the box?
Measuring spoon
Warranty card
Operation manual
Capacity
Since I'm the only brewed coffee drinker in my house, I chose to go with a smaller 4-6 cup capacity. There is a lot of confusion with the capacity, perfectly captured by this person on Lazada:


In my experience, a full batch will yield 4 teacups or two big mugs. Just to be clear, here is a visualization of that: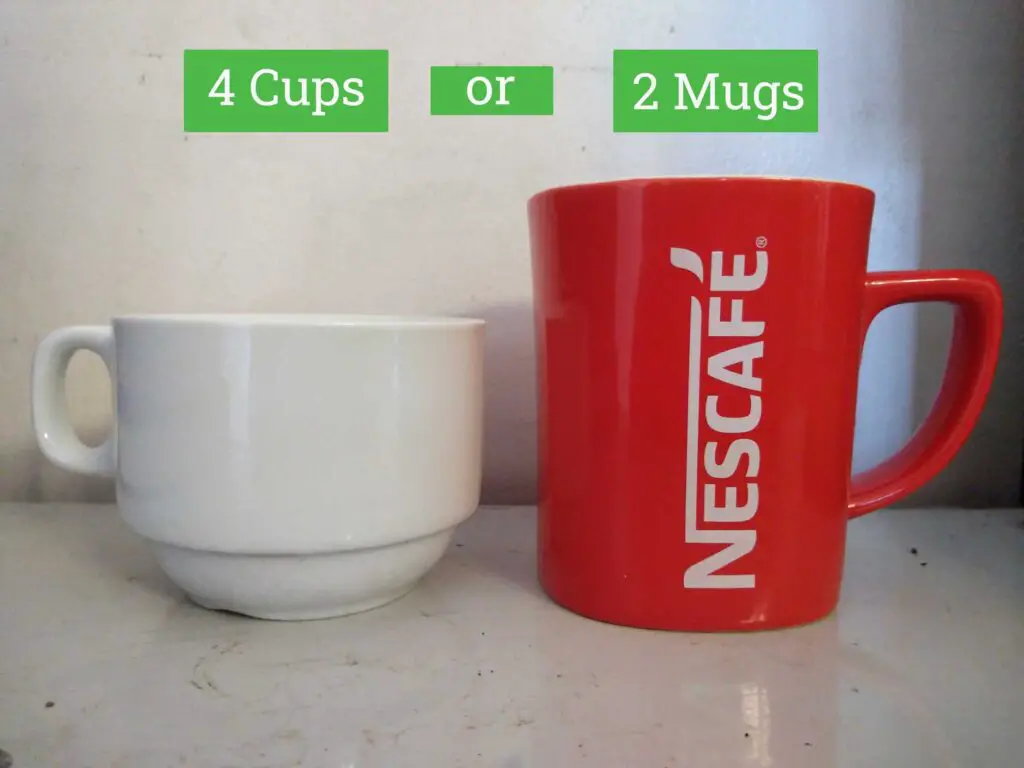 This is usually enough coffee for me. If I have a long day ahead, I will make another batch (if my stomach acidity permits). For households with more than one coffee drinkers, or for those who want to brew more coffee from a batch, you may want to get the HCM 25XB model, which has the same look and features, only with a 10-12 cup capacity.
Design
I must admit, the aesthetic design is what got to me.
I don't like appliances that scream "Hello, I'm entry level!", do you know what I mean? Like coffee makers with gaudy colors and weird, curvy, "you- know-it's-plastic" shapes.
For me, It's still made mostly from plastic, but for me, the shape of the HCM 15XB is understated enough to look premium. It's square and clean design gives it a sleek look. Here is how it looks like in my little coffee station at home: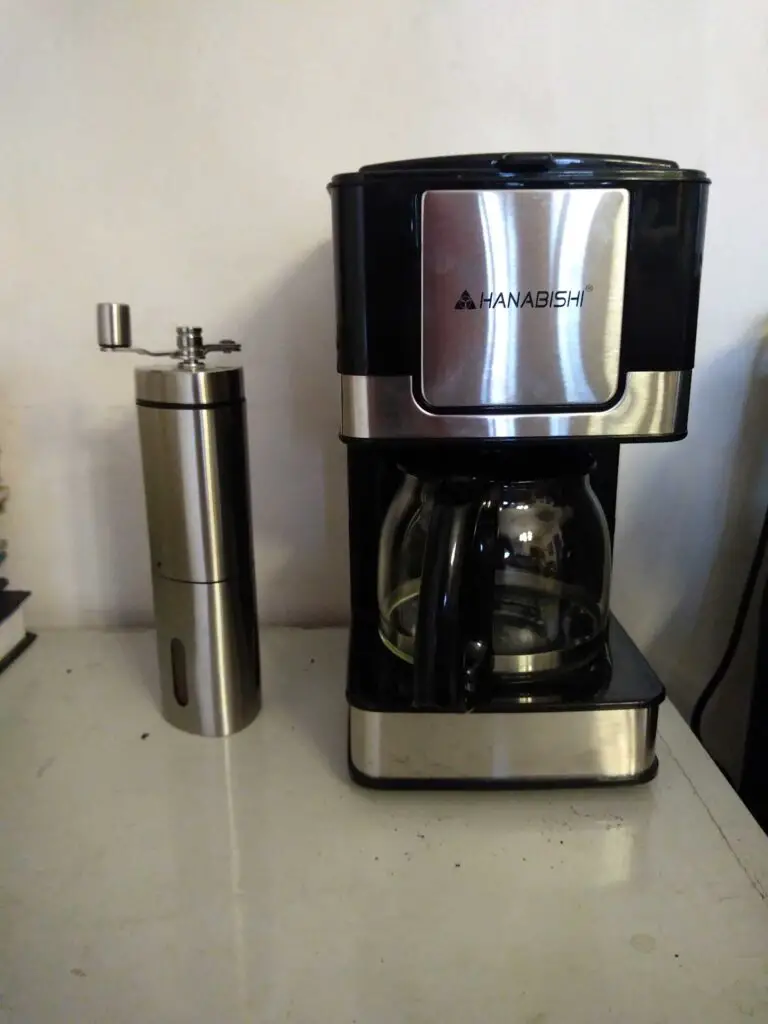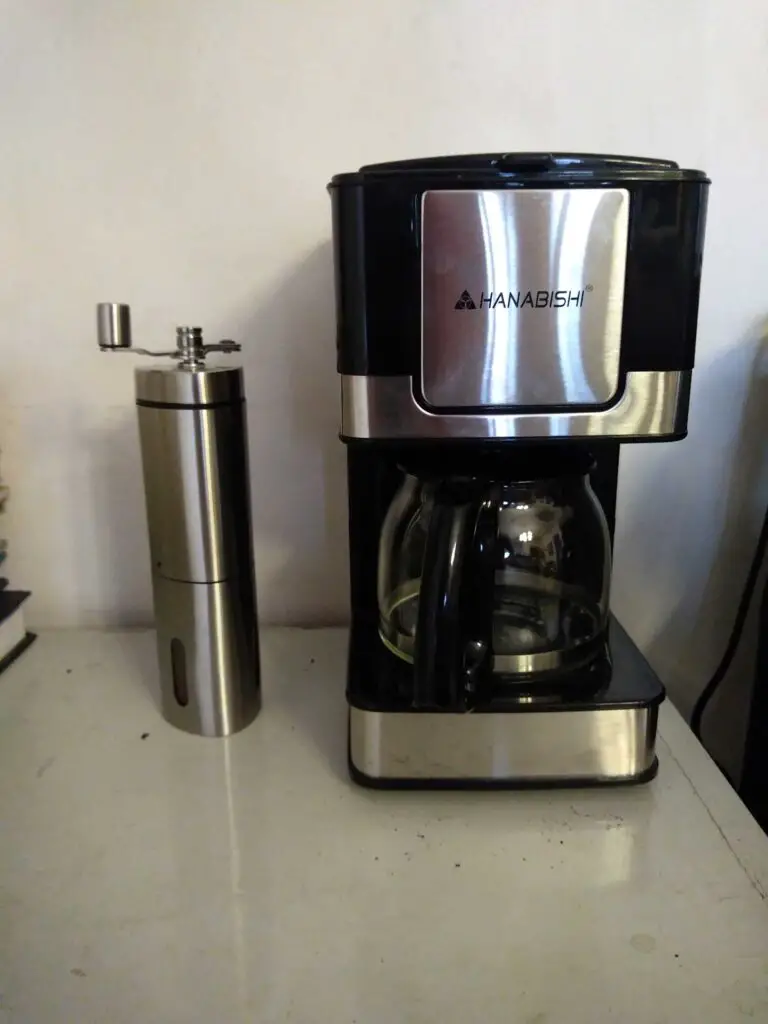 Also, owing to its design, the cone-shaped filter does not swing out as in most coffee maker models. This is a relatively minor drawback of the design, and I don't mind it that much.
One gripe I have with this model (and for most entry-level drip type coffee makers, for that matter) is that the water reservoir is not detachable. This makes it hard to clean, which is important as it can lead to mold growth if you don't air out reservoir after each use.
The only way to clean the water reservoir is to fill it with vinegar and water and let it brew. After that, fill the reservoir with just water this time to rinse off any vinegar left inside the reservoir.
Permanent Filter
As is the case with most coffee makers, I find that the cone-shaped permanent filter does not do an adequate job in filtering the coffee grounds.
While the resulting batch is still drinkable, you will get an acidic and bitter punch every time your tongue touches a rouge coffee ground that slipped through the permanent filter. Which is why I brew a batch with an additional paper filter.
If you are going to buy an additional paper coffee filter, make sure you buy the correct size. Here is a good 4-6 cup coffee filter available in Lazada.
Value for money
I bought mine in an AllHome for ₱800. However, I saw one on Lazada for as low as ₱740.
Given all its features (which is basically the bare minimum), I think that the price is sensible. You shouldn't expect any fancy features at that price point anyway. It's just a simple, honest-to-goodness, automatic drip type coffee maker…and guess what, it does a mighty fine job at it as well.
Granted, there are larger models with the same price point, but they often look gaudy and cheap. The HCM 15XB's design looks and feels more premium, which justifies the price in my view.
The jury is still out on its longevity though. I've had mine since November 2020, which is just three months as of the time of this writing. I will update you guys a year after I owned it if it is still working or not.
How to use the Hanabishi HCM 15XB
Time needed: 8 minutes.
It takes around 6.5 minutes for the HCM 15XB to brew a full batch of coffee. All you need are coffee beans, a grinder, and water.

To grind your coffee, you should use a burr grinder instead of a blade grinder so that the size of the grounds are more consistent. You can get the same grinder that I use on Lazada.

Grind your beans to the finest setting

For a full batch, I normally use three scoops of beans. A scoop is provided in the box.


Place the grounds in the coffee filter

You should put an additional paper filter to improve its taste

Fill the reservoir to the level needed

Take note of its maximum capacity, as filling to over this will result in a spill that can potentially short circuit the heating pad below. There is no need to pre-heat the water.

Wait for 6:30 minutes, and you are done!

The heating pad will continue to warm the brew, so you can consume it a cup at a time.

Conclusion
I still brew coffee with my french press occasionally, but for busy days, I choose to go with the Hanabishi HCM 15XB. It's a simple and affordable coffee maker that has been a valuable part of my morning routine.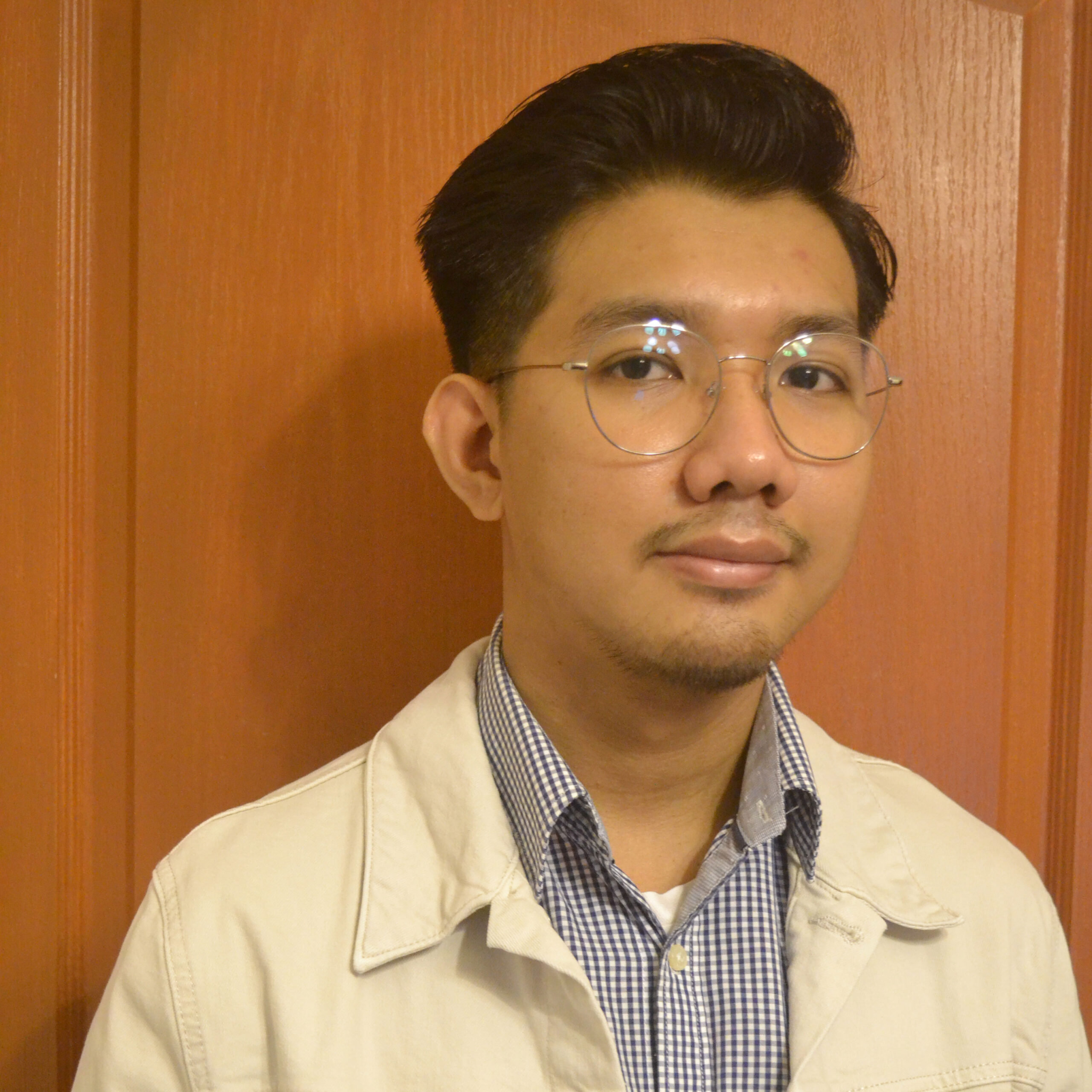 Miguel Mores worked for 5 years as a member of the product management team for a home appliance company in the Philippines. He started 101appliance to answer the most common customer questions that he has encountered during his time in the industry. He now works in the digital marketing field and manages a small online bookstore on the side.